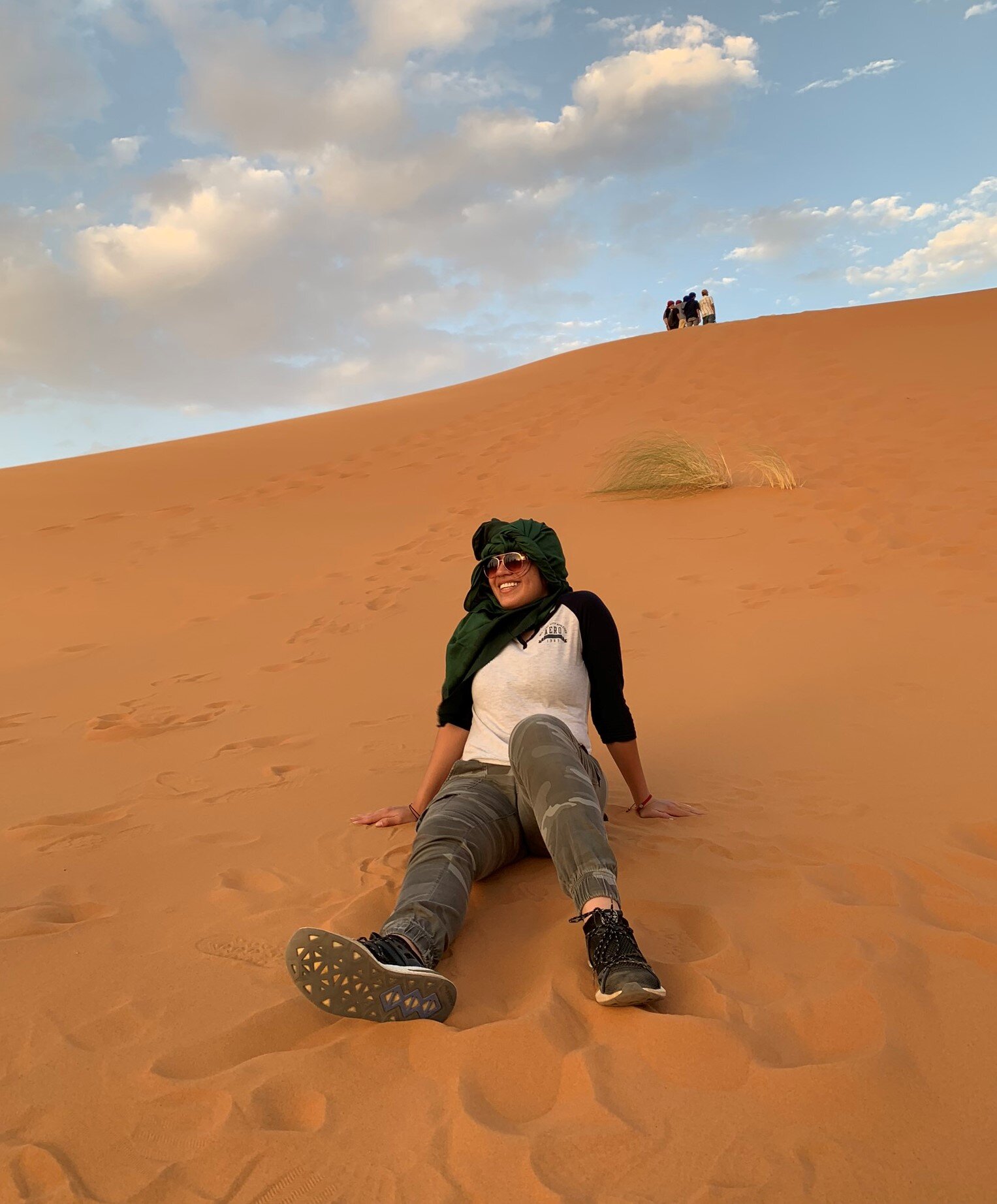 Our students
Meet Farther Foundation's 2019 class of student travelers. They have taken a bold step beyond the familiar to discover what they can aspire to. They have shared their experiences with us through photos, videos and stories, and we now share them with you in our annual yearbook, Reflections.
mission and vision
Farther Foundation helps students break free from the constraints of poverty and isolation and propels them toward their highest aspirations. We provide opportunities for eager and deserving students to participate in educational programs across the country and around the world.
impact
100% of our alumni graduate from high school, 99% go on to college, and 95% graduate or persist in college.
maya
"The first few days I lived in a bubble of bliss, I was on a vacation. It did not become difficult to be a blissful tourist until I saw the pain of the country. South Africa is geographically beautiful and enchanting but it is also filled with horrific history that transpires into the present, as many laws were still in place as a way to oppress the black community. I took classes and visited museums learning about the relationships between European colonizers and native tribes. I also grew a strong appreciation for the tribes that fought against enslavement and imprisonment, refusing to be brutalized. Throughout the trip, there was a common theme and feeling, 'Ubuntu', 'I am because you are.' I saw a connection among the locals, greeting each other with molos and molowenis, meaning 'I see you' in Xhosa."
Maya traveled far and had powerful experiences in South Africa.
Atzihri
"You might be wondering why we're both only wearing socks. That's because we just finished climbing and sliding down a mountain of sand and we were told to take our shoes off. This was my roommate throughout the southern excursions in Jordan and we became close. We learned that we had a lot of things in common. "
Seeing Petra, one of the seven wonders of the world, was a once in a lifetime experience. There were so many paths to take that no one could possibly see all of Petra in one day. I definitely won't forget climbing all those stairs to see the monastery.
The Cave of the Seven Sleepers was a memorable experience. We thought there would be more caves but we obviously didn't read the name of the place. We also didn't know we would have to wear those robes. None of us knew each other before this trip but we would talk every night as if we've known each other for a long time."
Atzihri experienced everyday life and rare sights in Jordan.
robert
"As part of our program in Madrid, we worked alongside an architect and multiple influential people who are passionately determined to re-design an empty space with lots of promise. This empty space is currently used for illegal parking and it is filled with piles of trash. The worst part is that it is next to an elementary school. Sleep was sacrificed and an abundant amount of effort was put in for the success of this project. Our main goal for the park is to allow kids from the neighboring school and all the families living nearby to enjoy, but also for it to be environmentally friendly."
Yaritza
"At first, I was intimidated to be taking a class with kids who I thought were somehow more capable than me and smarter. I was degrading myself as a student and as a person because I was insecure in my ability to succeed in a space I had never been in before. At Stanford, not only did I learn more about Political Science, but I learned more about myself as a student and as a person. I grew confident in being a student and I finally came to the realization that thinking of myself as smart and capable was not a bad thing. From doing my own laundry and writing an eight page paper with a structure I had never used before, I grew confident that I could handle what college had in store for me."
elle
"After every hike, I was reminded that a young low income female who is a first generation immigrant made it across the world, alone in a different continent, giving service to other people, sharing her passion and expanding her knowledge all because she, I, did not set a limit to what is available and what is thinkable."
Elle traveled to Tanzania where she provided community service and saw natural wonders.
titus
"In the end, my Boston University experience went better than I had hoped! Not only did I get a taste of college life and its coursework, but I was able to step outside of my comfort zone and make new friends where I didn't feel insecure about myself. I am proud of myself because I overcame my insecurities and was able to meet people, learn about different cultures, and make potential networking associates for the future. My one wish is that the program was longer because I didn't want to leave, not only because I loved my classes, but because the people there made me realize that I am a valuable person and that my voice matters."
Oche
"The responsibility I had for myself and my family was for me to experience the most out of this once in a lifetime opportunity. A duty to take in as much information and culture as I could from not only the environment I was placed in but through the people I met along the way. As the days went on I realized that being able to laugh with each other was something my host family enjoyed doing."
Oche's time in France included a homestay with a local family and an immersion in the French language.
Jennifer
"''I went desert mode!' - This is me once I reached the top of the dunes in the Sahara Desert. We took great pictures while the sun set.

A new form of transportation.' - This is me traveling by camel in the Sahara Desert. We went to the top of a dune to watch the sun set.

'Everyone say Tajin!' - This is me and my Experiment group. We were in the beautiful city of Asilah. We went to the shore of the Atlantic Ocean. By the way, Tajin is a delicious Moroccan dish."
Jennifer went to Morocco to learn about their culture, religion, and the Moroccan Arabic language.
alejandro
"The next two days were the most fulfilling because we did interactive service. We started the first day by making meals for eight families. I was in charge of cutting up the sausages. We later delivered the meals to a housing project made up of widowed families and many orphans. As I stepped out of the bus I was approached by a boy with the biggest smile I had ever seen. Caleb was seven years old and was an orphan. I played soccer with him for an hour. He was also teaching me different handshakes and jokes. As we were saying our goodbyes many of the mothers began to sing a thank you song."
Alejandro traveled to Fiji where he engaged in service projects and learned about the history and culture.
jadrien
"It was my final week at Johns Hopkins University. My class and I were at the Johns Hopkins Simulation Center, which was located at the Johns Hopkins Hospital. However, this was not any normal day. It was the day my class and I were preparing for since we first arrived at JHU. It was the day we would partake in the Standardized Patient Encounter. The Standardized Patient Encounter is a simulation that tests pre-medical college students on their ability to have successful conversations with their patients."
Moshay
"I think the most important part was bonding with the people who lived in the Andes Mountains. One beautiful evening, an elderly woman came up to me while I was sitting beside my sunny, yellow tent. I was resting and waiting for dinner after a full day of digging holes on the work site. She knelt down with a smile as wide as the horizon. She placed her arm on my leg to support her weight as she connected with me. She was holding a device that played a voice that exemplified a mermaid or a siren. I was well aware of our differences in age, language, and place of origin. By using broken Spanish and opening my ears, I learned that she was allowing me to hear a recording of her younger self."
Moshay traveled to Ecuador and the Galapagos Islands
jalante
"In Tanzania, only a small handful of people could speak English and a smaller handful could speak it fluently. So for me it was very important that I learn a little Swahili to communicate with those who resided there. Before leaving Tanzania, I talked to some of the people who resided there to say my goodbyes and almost all of them had the same request. They told me to tell as many people as I can about Tanzania. I will work hard to honor them and speak to everyone about my experience."
Sarah
Sarah spent the summer on campus at Colorado College and shared her experience in this video.
andrea
"The first nights are always the hardest when sleeping in a different place. The morning after that sleepless night I took a deep breath because I knew that I was a different part of Ecuador. The memory of this day makes me happy. Study abroad in college is a must for me now, and it will impact the colleges or universities that I will select this year. I learned that I would prefer to be abroad in a new country over the summer than staying inside the house doing nothing."
vianey
"While I was on my homestay, I was eager to meet my host family, especially my younger host brother. Most of the time I couldn't understand half of the things he would say to me but I made signs and tried my best to communicate with him in my broken french. In the end, we formed a routine. Everyday after dinner we would go outside and play on the trampoline, swim in the pool, or play table soccer until the sun would set. The language boundary didn't stop us from forming a bond."
Vianey immersed herself in the language and culture of France and Spain during her summer experience.
anastasiya
"18 days in Cambodia- a country that is often stereotyped as impoverished, "in the middle of nowhere", and ridden with diseases. While to a certain extent that might be true, my experience showed me so much more than just that. What I saw was a nation rising from ruin and entering an era of prosperity and growth, and I was able to be a part of that."
bennie
"The way my family and I prepared food was different because we would set tables and eat as a group. After every meal, we would say something called "Kitos" and "Ole Hayva" which meant thank you and your welcome. That was my favorite part because it shocked my family I wanted to engage in the language."
jackie
"I want to continue studying Japanese and grow in the culture and language. I plan on studying in my free time and make it a priority to not lose all the knowledge I gained this month. Words cannot describe how open my mind is now. I see such light and possibility in my community. I have seen a small, yet amazing portion of what the world has to offer outside of Chicago. As a returnee, it is my duty to spread the idea of growth, and of our comfort zone possibly holding us back. There is so much opportunity out in the world and it saddens me that people are uninformed of opportunities that can change lives such as this experience that forever changed my life."
laila
"Once I got on the bus to go to my dorm, I knew I was so lucky to get the opportunity to go to this program. There were so many students from all around the world that traveled so far to go to Stanford. I learned so much from just three weeks of taking the class, not only about physics but about myself. I learned to not doubt myself when something was hard, to not give up on myself, and to not complain about anything because it won't get you anywhere."
"The picture below shows the Memorial Church. I walked past this church every day to go to my class. It was a beautiful place to take pictures in front of. I was in awe because I've never seen a church this huge before. A fun fact I learn was that there is a three or more year waiting list to get married in the Memorial Church."
Angelica
"We explored everything we saw and were eager to learn more. We navigated the language barrier together and made significant progress with our knowledge of the French language. We befriended the daughter of our cook. Her name was Henola. On our excursions, she took us through Guadeloupe like locals. Needless to say, my time is Guadaloupe was one I will never forget. I learned to foster relationships with friends that will last a lifetime and to appreciate other cultures because they all have something unique to offer."
hannia
"It was my last Sunday at Brown University and my friends and I decided to go and hang out. As I was laying on the grass, I was reflecting on the things I learned about myself and the world. I was amazed at how my perspective of the world changed in just one week. I met people from all over the world and of different economic statuses, and I can say that each one of them taught me something. I saw the ambition of every student in my course, which inspired me to become a better student and challenge myself even harder."
lily
"Family is one of the most important things to me and thankfully my host family cared for me throughout my entire experience. If it was not for them, I honestly believe I would not have been able to view Japan the way I do now. At the end of each day, my host mom, dad, and I would sit down at the dinner table and talk about our days."
This is me in front of Asakusa, which is very lovely to see. I went on a field trip here on my first day of school.

My host mom works for a company that specializes in hair and makeup for people who decide to wear a yukata. A yukata is a Japanese garment that is a casual version of a kimono.

On the first day I met my host family, they welcomed me with open arms and a slightly new artistic point of view. They stayed up the night before to finish drawing on their family white board a "welcome sign" for me.
Citlalli
"My host family consisted of a full-time working mother and her 18 year old daughter. I spent most of my days with my host sister, and we became the best of friends. She would take me out to eat, explore, and shop along with her best friend. We did everything together for a week and a half, so I really got to experience what it was like to actually live in Spain."
britney
"This was my first time away from home and family. I will be a first-generation college student. With this opportunity I am no longer so afraid to be a first-generation college student, I know now that I am capable to conquer those obstacles. Of course I only got a taste of what college looks like and it will be harder once I do it for real, but I'm excited to take on the challenge and see myself succeed."
Britney spent the summer at Emory University in Atlanta.
Kennedi
"While at Yale, I learned to become more aware of my capabilities, be more socially interactive and deal with obstacles that come my way. As I begin my junior year of high school, my experience at Yale will stay with me forever. I am eager to not only continue learning from my experience, but I look forward to sharing what I have learned from this opportunity with my classmates and family members."
ayonie
"I must admit that I have a new appreciation for the courage, focus, and dedication it takes to teach others. My ballet teacher for the summer, Ms. Rice, charged each of us with teaching our peers a style of dance that was special to us. I had never taught before, but this summer was all about stepping into the unknown. When my class approached, I got in front of my classmates from China, Russia, and Brazil and I taught them a majorette routine. All at once, I realized it was all bigger than me and that I was representing my culture. I gave a piece of myself to my peers to take back to their countries with them and it warmed my heart."
Ayonie spent the summer at Cushing Academy learning what it is like to live and learn away from home.
nikki
"I visited Brown university and stayed there as a college student. I didn't know a single person, but I made a lot of international friends. The one person I will forever remember is Annie; she is my other half from China. She is such a fantastic person, and I loved talking to her. We went to get her first burrito. I also showed her my favorite bubble tea flavor, passion fruit, and now she loves it. I am still in contact with her. I have sent her postcards, and she has given me some. On her birthday I will send her a box of stuff from here to China."
ingrid
"This summer I was luckily to spend my summer at Harvard, not only was I able to get the college experience but I was able to meet people who had the same mindset as me. I took a class called Introduction to Cancer Research, during this course I worked on a research case that at the end of my program I had to present to the class. I would have to say the best part of my program was the people I met. The people that I met just had a different mindset, they all wanted to succeed."
one last student to hear from
Elena: "Dr. Raifman leaned toward me and said, 'You overthink too much, let yourself make mistakes. You're persistent and I'm sure that you will make it. You just have to trust yourself.' In that moment, I was taken aback, yet I knew what he meant. He was right and still is to this day. So, what is there to do now? Do I stop there or continue with my education and curiosities? There are many paths that I can go to and it will be hard to find the right one. But as of this moment, I want to focus on how I want to grow as an individual and share my experience with others. I don't want to pull myself down, instead I want to push myself as high as I can. To trust myself and pursue my dreams, whatever they may be. Without a single doubt, I will make it. I will be someone in this world, no matter the social class, background or education system I came from."
Thank you so much for supporting our students and their future.
Your tax-deductible donations make life- changing experiences possible.

Farther Foundation is a 501(C)(3) charitable scholarship organization.
The Board of Directors, Farther Foundation
David Weindling
Susan J. White
Maryanne Woo
Laura Swartzbaugh
Rozelda Perterson
Paula Rusca
Melissa Coughlin
Nicky Fish